Bottom Line.
An empowering, educational, and safe platform for use by the diverse
community of Dallas to give the people a voice.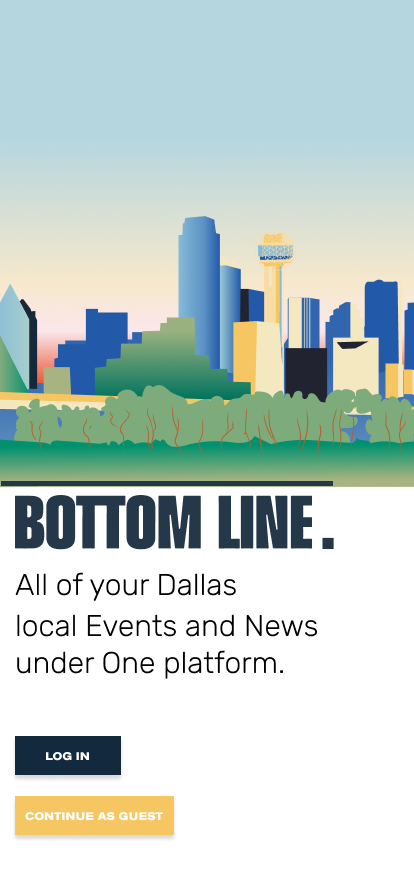 Time
7 weeks
(March - April)
Role
Marketing + Design Team Lead
Designers: Alex Szallar, Kimberly Wilkins, Brett Johnson
Marketing: Jacqueline Hernandez
Engineering: Kerim Rejepov
DIALEXA EDU Program
Industry
Marketing
Tools
Figma
Adobe Create Cloud products, Zoom, Google Drive
Problem
As we all know, 2020 and 2021 brought on a lot of division within our country and our community. We've begun to lose focus on what really matters: the community that surrounds us. We need to put politics aside and create an environment dedicated to positivity and growth in DFW, both as individuals and as a collective. Currently there is no platform provided to help connect those in the DFW to help us stay informed and connected, and provides an outlet to give back.
Solution
Our team decided to tackle this issue by creating an app based around bringing together the local Dallas community. We can give the user a voice in a different way than just sharing or disputing opinions. It's proactive not only by educating ALL in our community but also by giving the user a place to "speak freely" and have their opinion be heard without fear of an intimidating feed of nasty comments or arguments. Let's be real, we've all seen comments sections on social media. Things have gotten out of hand with open forums. But, we can still get opinions and gather data but we can do it in a more safe and respectful manner to make our community stronger.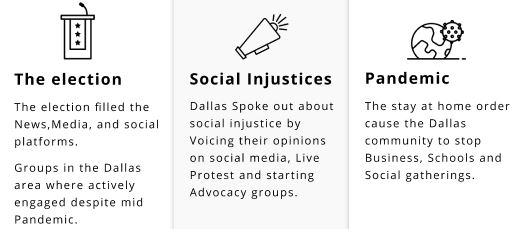 State of the Dallas Community
We uncovered as a team in order to really empathize with our users we knew we had to know what the current state of residents in dallas are currently going through and have gone through in the past. 2020 brought the election , social injustices and a pandemic full of unknowns. The share of different opinions and voices mattered, people needed to be heard and ultimately what we uncovered was that these all shared a mean to potentially create action for their beliefs.
7
Competitor Market Analyses
36
Market Overview Profiles
4
Available Platforms Currently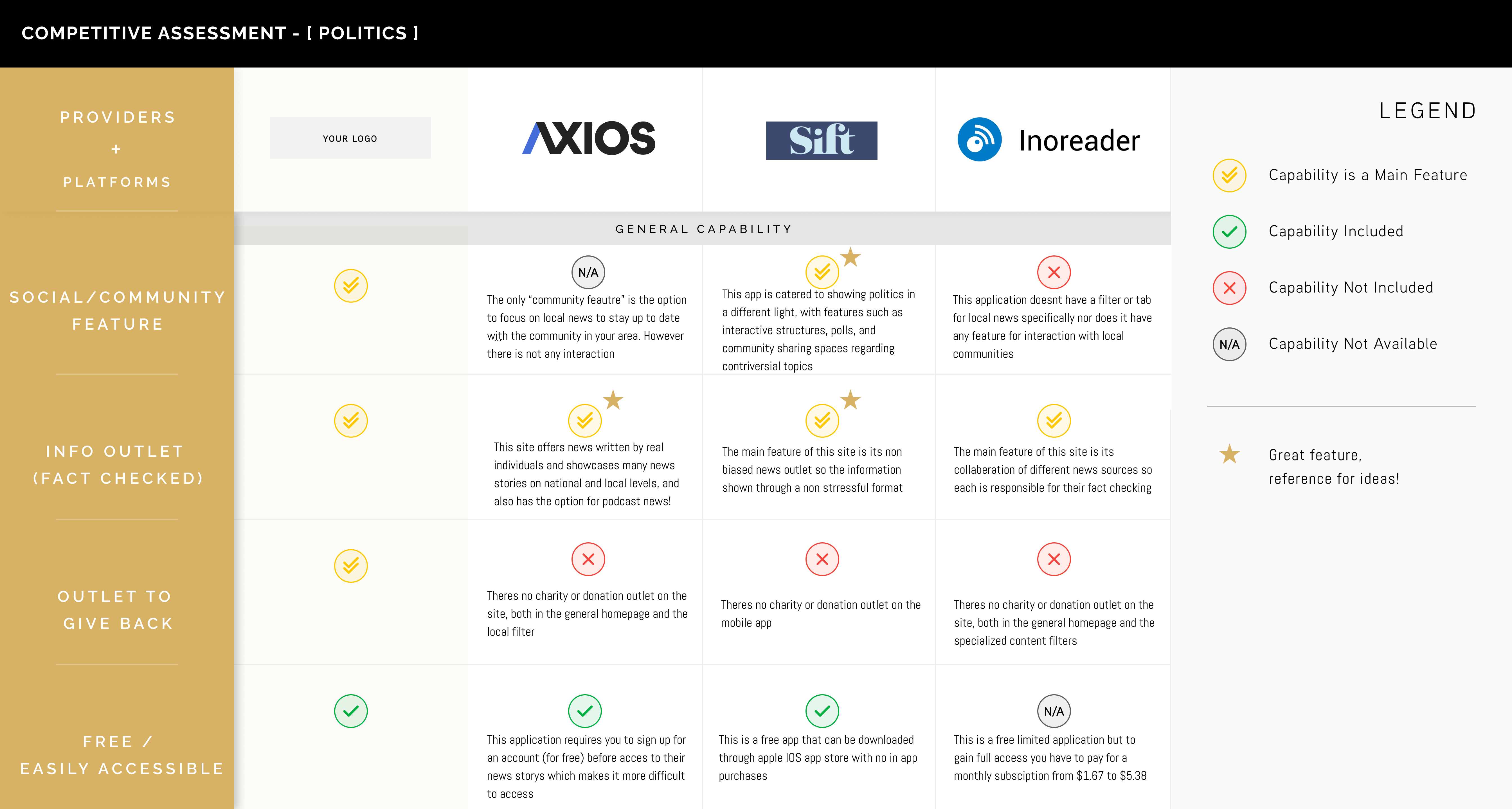 Competitive Analysis Matrix
Because we want our solution to be based in politics, community, and current events, our market research covered all of these sectors individually in order for us to fully evaluate the gap in the market for our application across a multitude of platforms. We evaluated a variety of competitors based on several key features, including social interaction, authenticity, community impact, and accessibility. From these findings our team was able to solidify our initial application ideas based on the research directing us toward what is accessible to the user now and what could better fit their needs.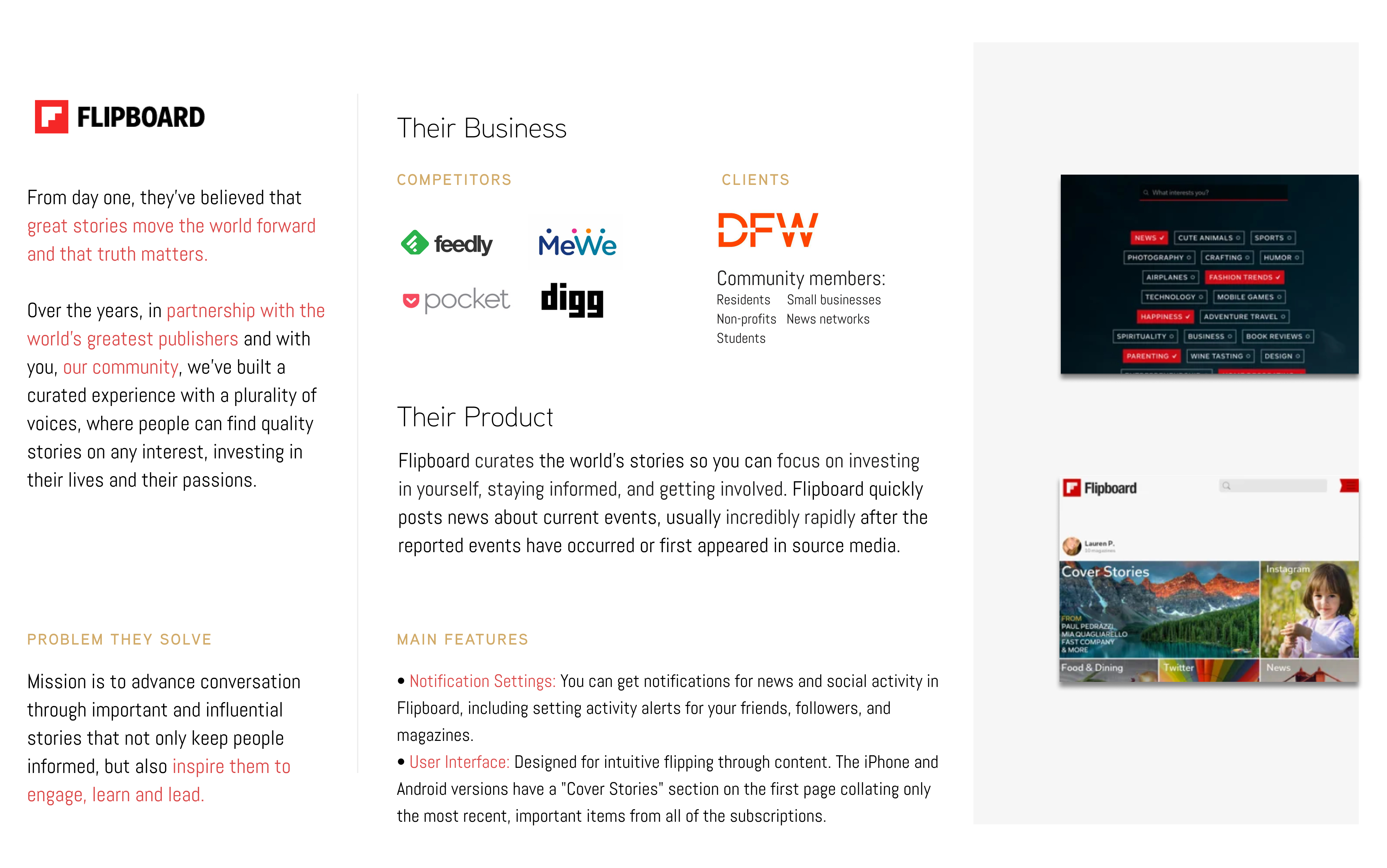 Market Research
We dove deeper in our research to determine key pieces on information about our competitors; Their clients, features, visual design and product definition.
Personas
Understanding our Dallas community and potential end users was the next step. We analyzed the ways these two people may differ in their approaches to particular subject matters - specifically opinions and activism.
Abigail and Randall helped us understand that if we are really trying to get as many members of the Dallas community involved as possible, we are talking about a very diverse group of people in terms of age, background, beliefs, and goals. We want a solution that was easily accessible for all demographics but it was crucial that it be a safe space for all to feel comfortable engaging in the community conversations.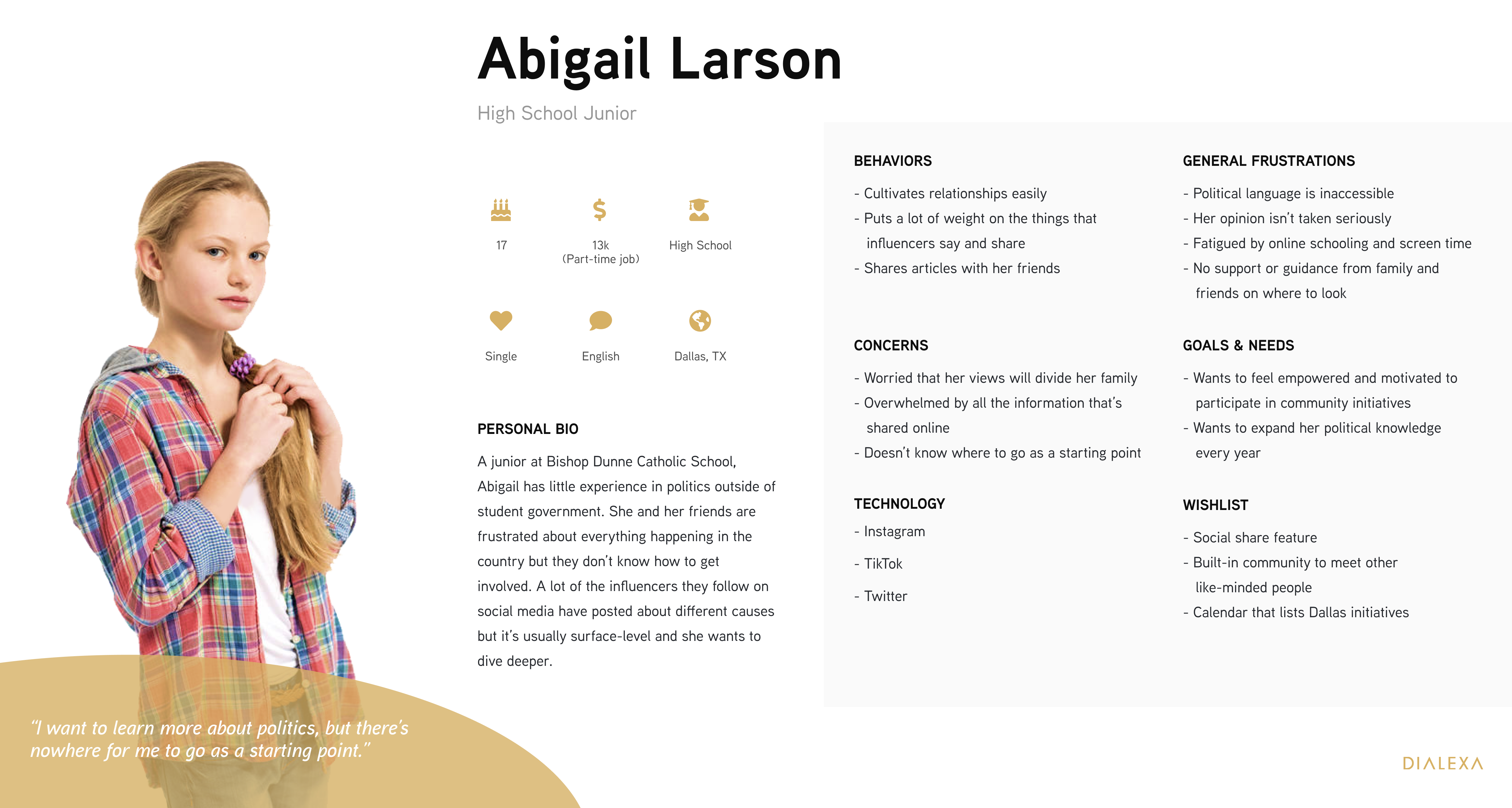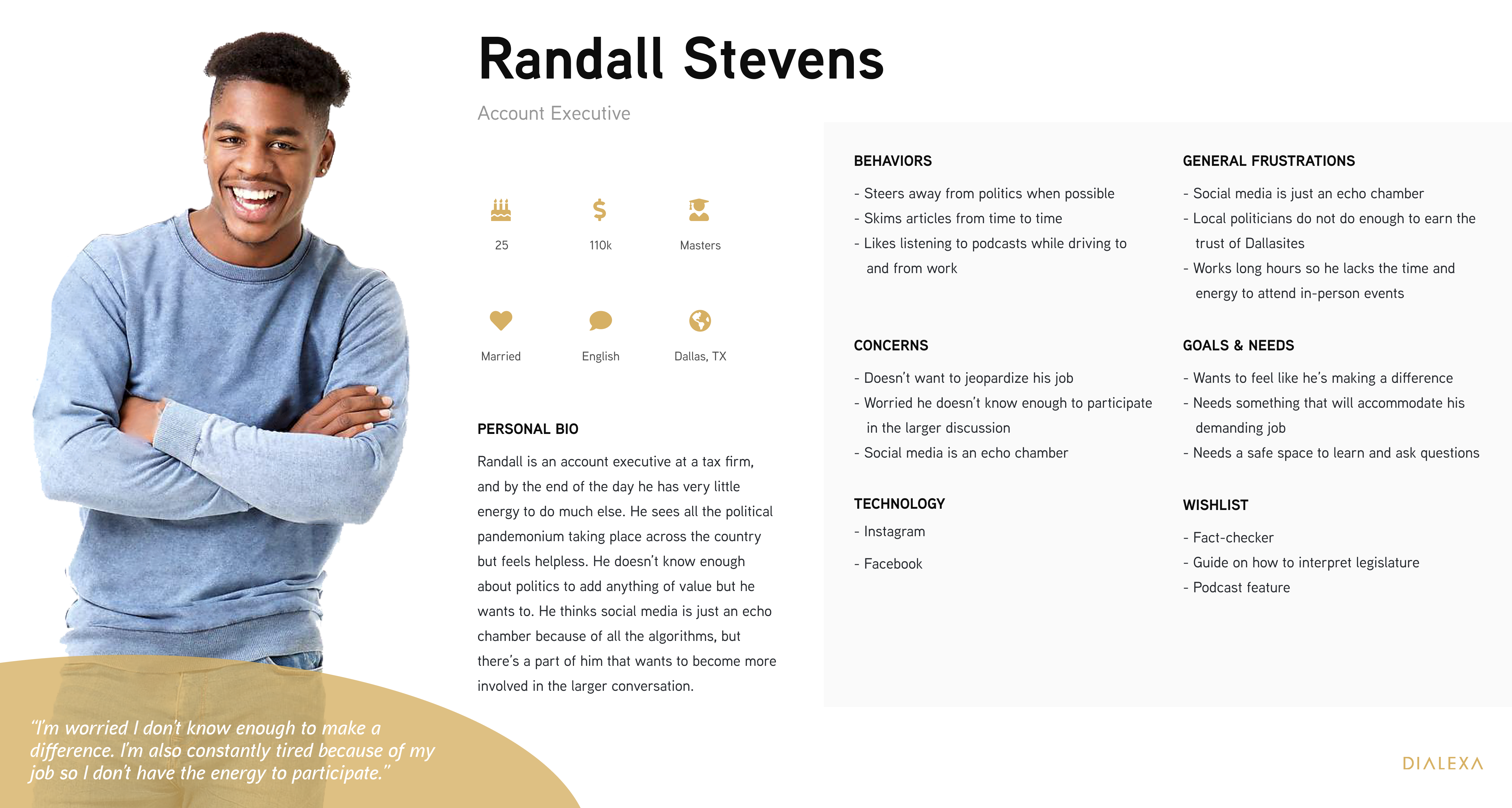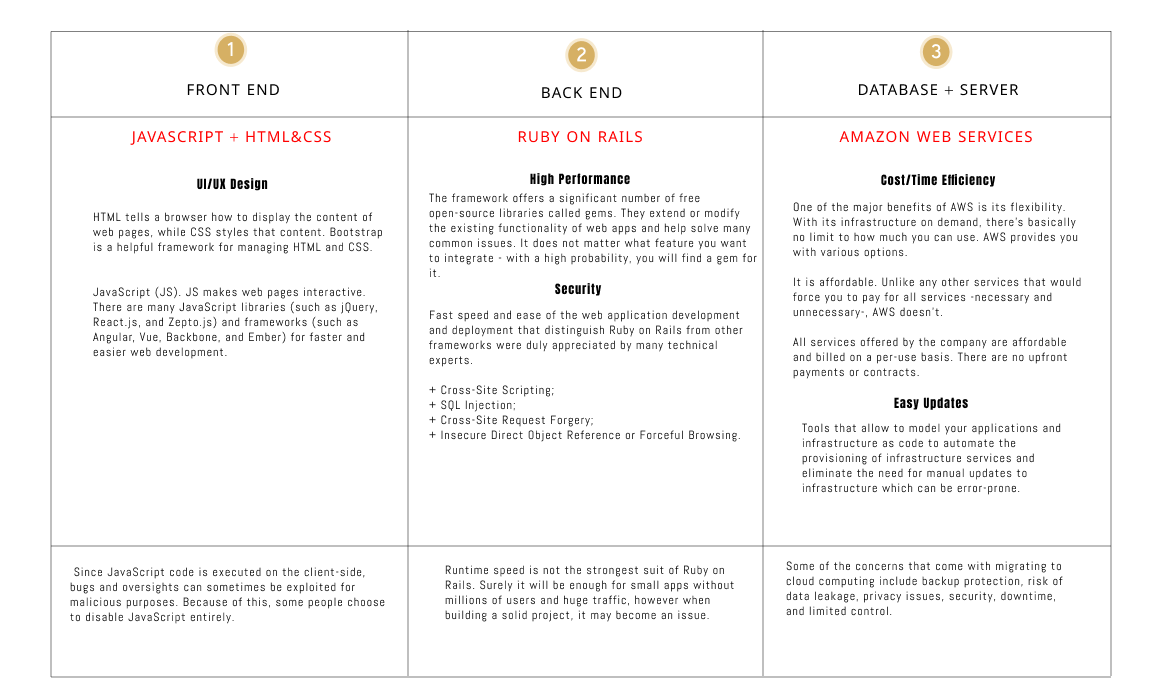 Tech Stack
We also studied some tech stacks to get an understanding of what goes on when developing an app on all ends. This helped us when working between engineering and design teams.
Innovation Canvas
This canvas helped us collaborate and create a visualization to define how our theoretical company's value.

We had better strategic conversations that structured and streamlined our team's thinking.
It helped us define our key partnerships, activities and resources as well as customer segments, relationships and channels.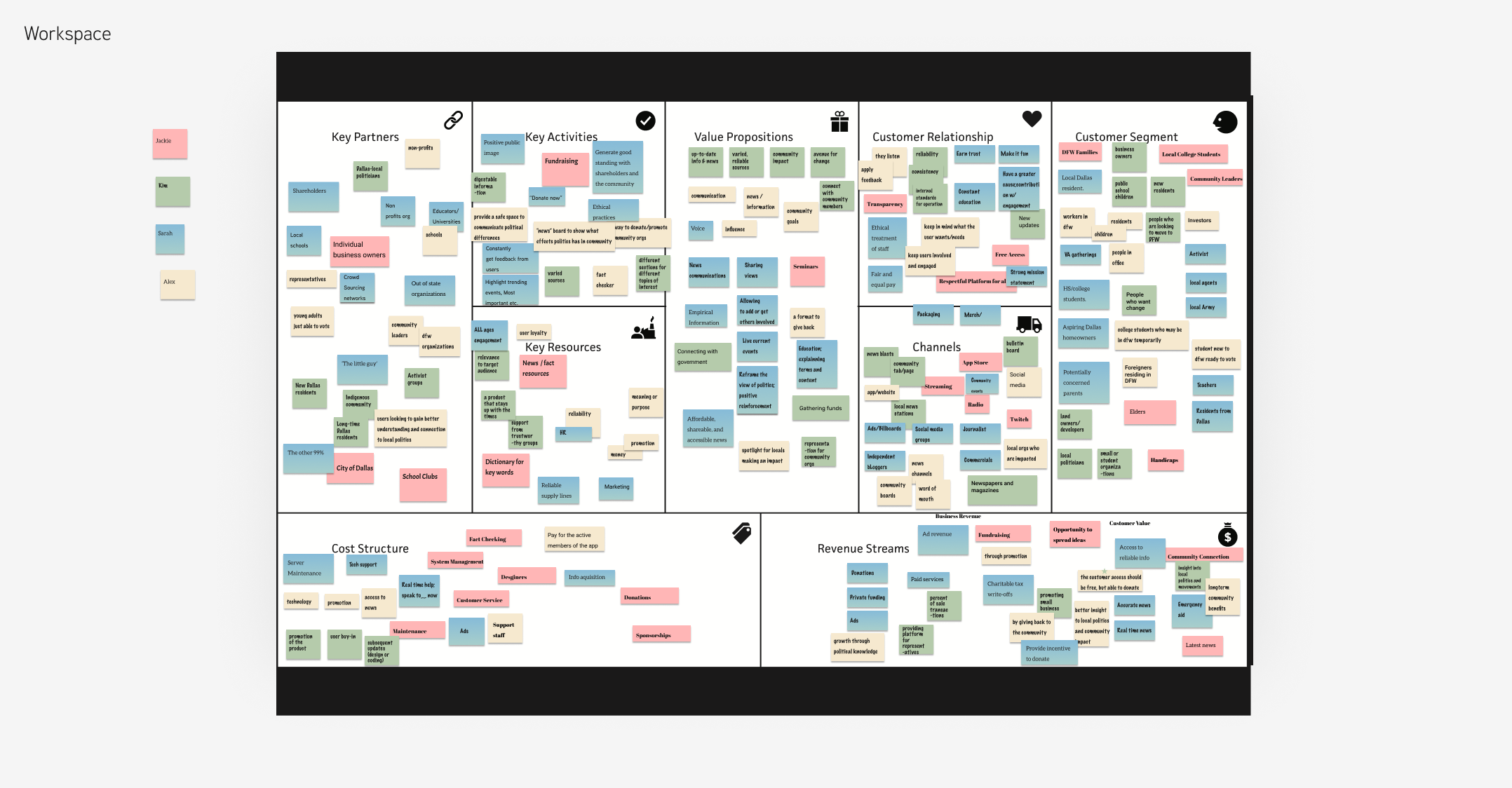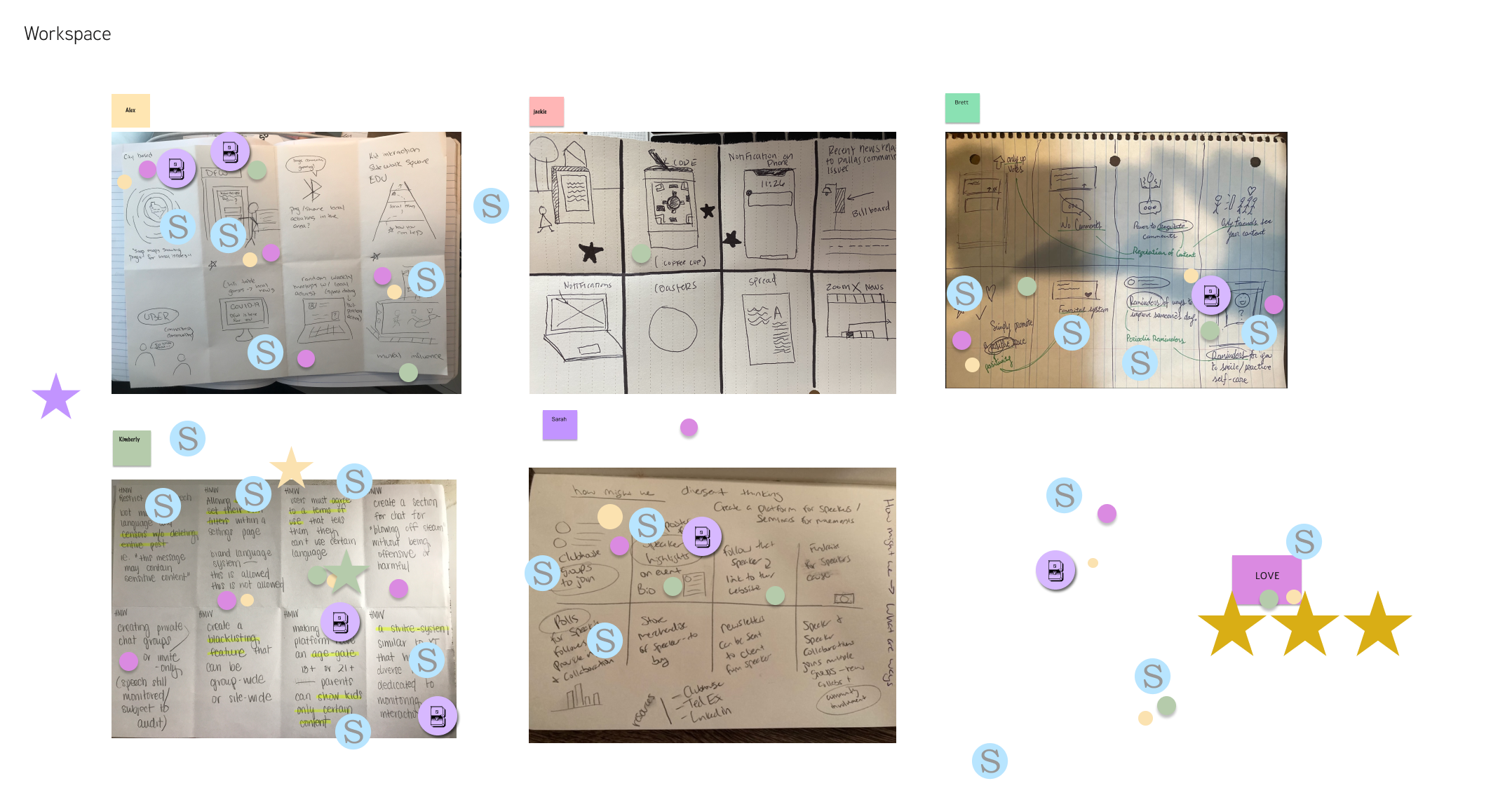 Crazy 8's Exercise
This collaborative activity created an opportunity for us to diverge our thoughts and come up with a wide range of out-of-the-box solutions. As a group we voted via dots on the concepts we thought would benefit our users the most.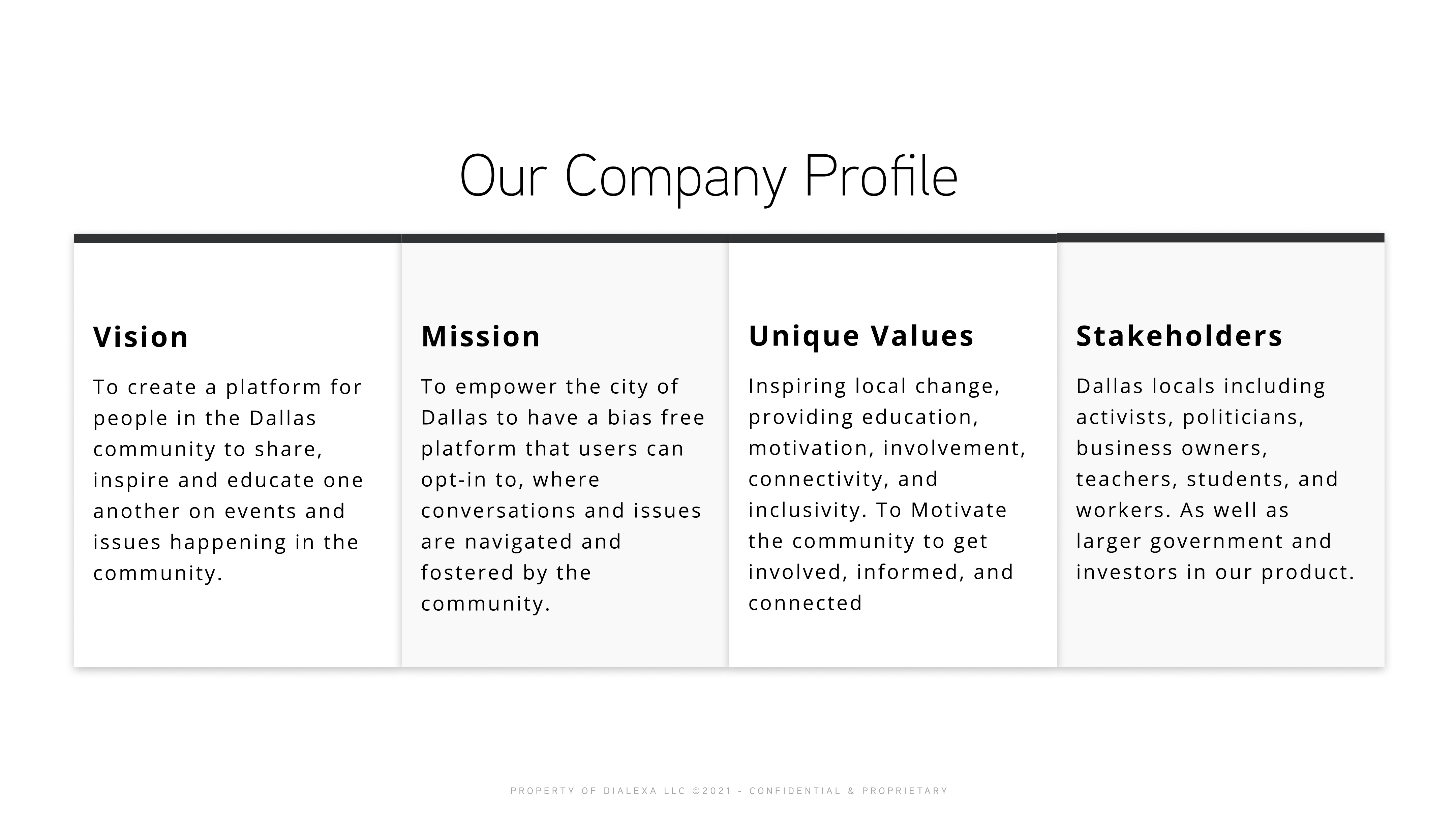 Feature Development
The most important features to the function of our app were onboarding, local interaction, research, support, personalization through settings, content sharing, and being able to fund local campaigns. For our happy path we narrowed in on developing the interaction of a guest user who is looking for an event in their area as well as interacting with a local poll.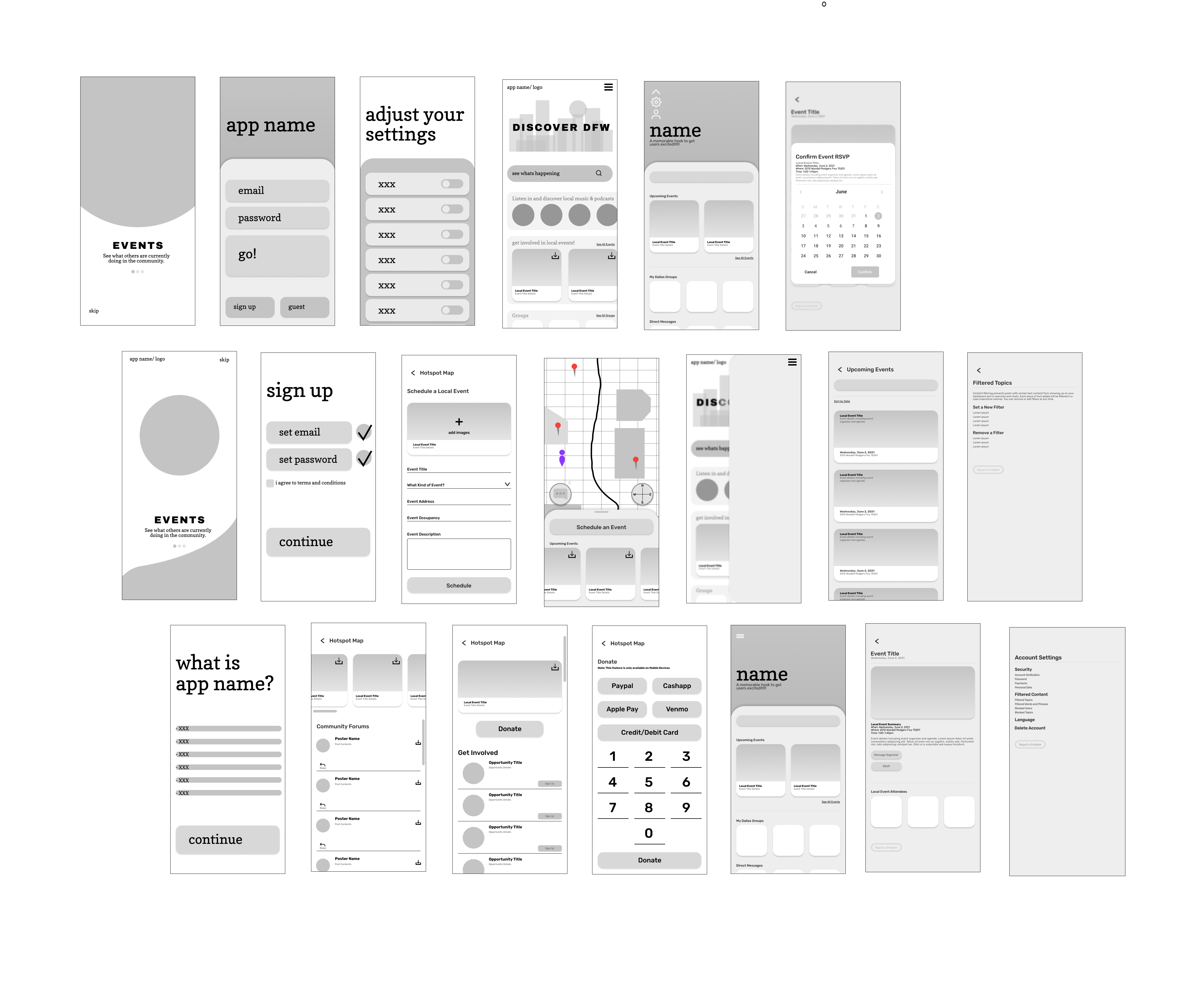 Wireframing
We took our potential solutions and put them into visualized screens to refine the scale and spacing in reference to the screen size, which helped prioritize what information goes where.
Style Guide
Our team developed the branding look and feel alongside the application. The broader vision was to apply this design language to other platforms such as posters and billboards, and to integrate the brand into the daily lives of Dallasites in a meaningful manner. Our conviction as a brand is representation for all for "there is no power for change greater than a community discovering what it cares about"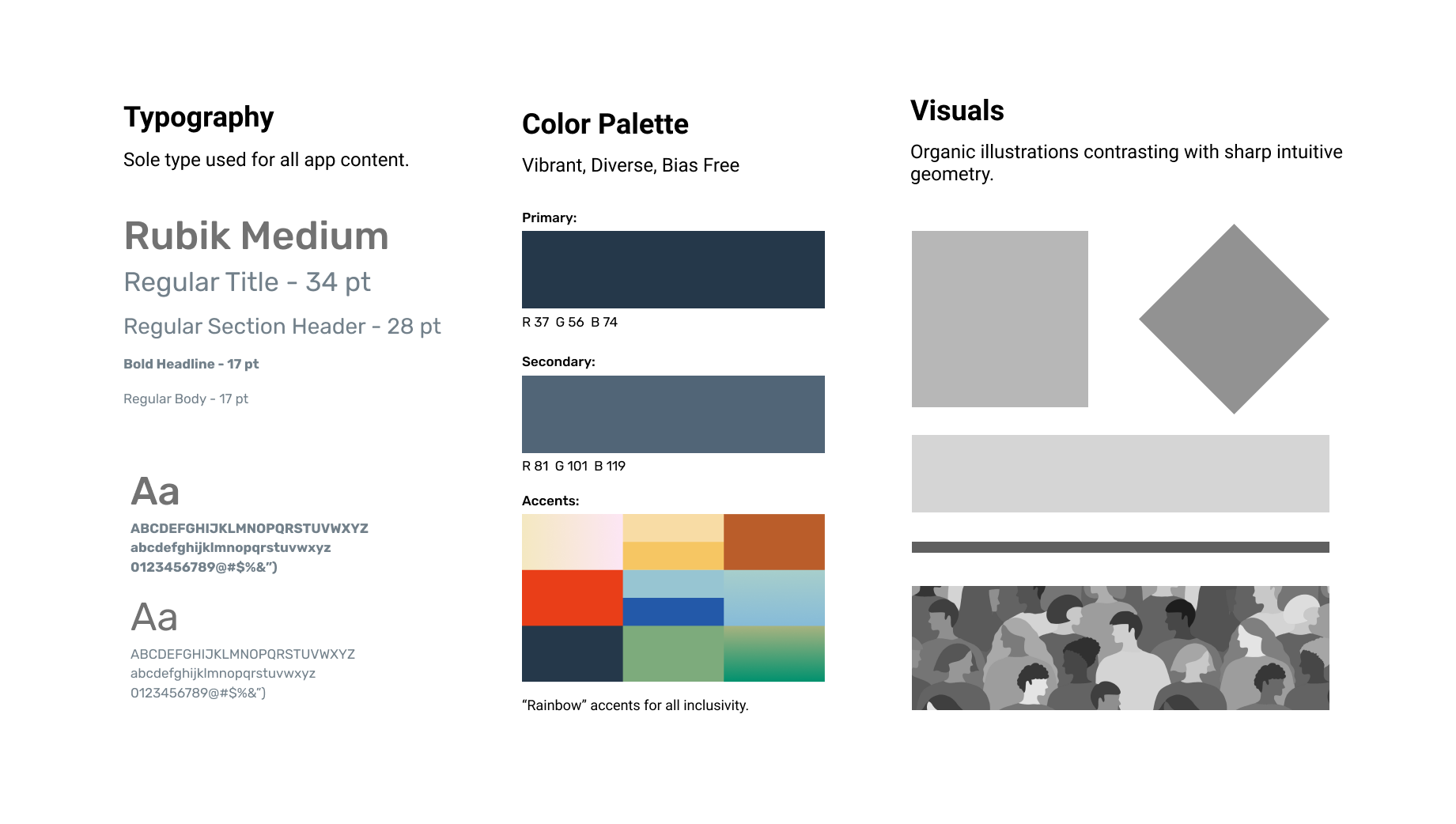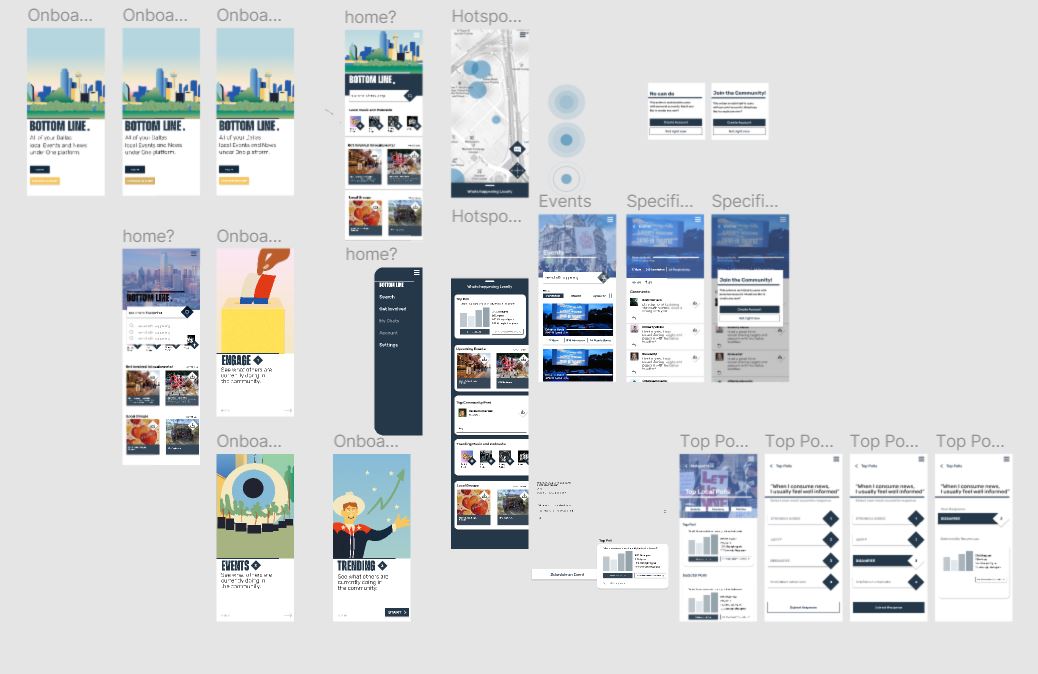 High Fidelities
Using the style guide the initial UI design was brought to life with colors and graphics.

We propose a system that would facilitate social and educational stability within the local DFW community.
This would take the best aspects of:
interactive map, community forums, event planning, live voting information and more.


To EDUCATE
You can write here as much as you want, this To Educate the app audience to keep a positive
community platform.
To MOTIVATE
You can write here as much as you want, this the Dallas community to get involved, informed and stay connected.
To INSPIRE
To inspire the community to be
locally active.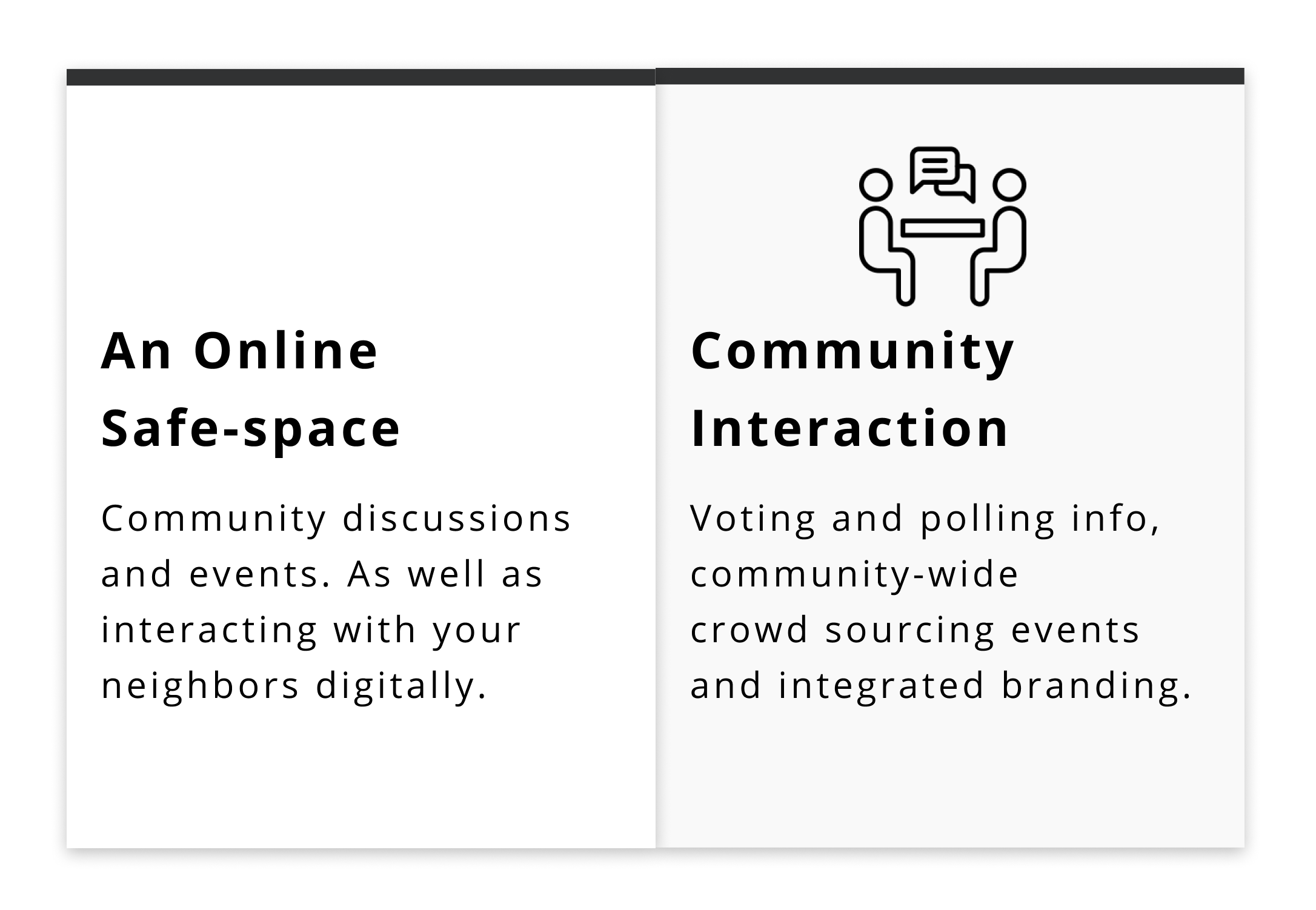 Access for All
We envision the Bottom Line being available throughout the city in interactive ways as well. These interactions would be a reminder that not only is The Bottom Line a safe space for people to be a part of community discussions, but anyone, anywhere, and from any demographic has access to pertinent information within the community and can have a voice based on what they've discovered. Here are a few visions of just that.
Implementation + Marketing
Marketing Strategies
Connectivity is important and as a main step in our process to Educate, Motivate and Inspire through the Bottom Line, we envision a multitude of ways to bring more people into the online platform and to inspire them to express their talents as individuals. We also want to work with smaller local brands by partnering with them through joint marketing campaigns that can benefit the local businesses, this might take place at a public transport station or a coffee shop.